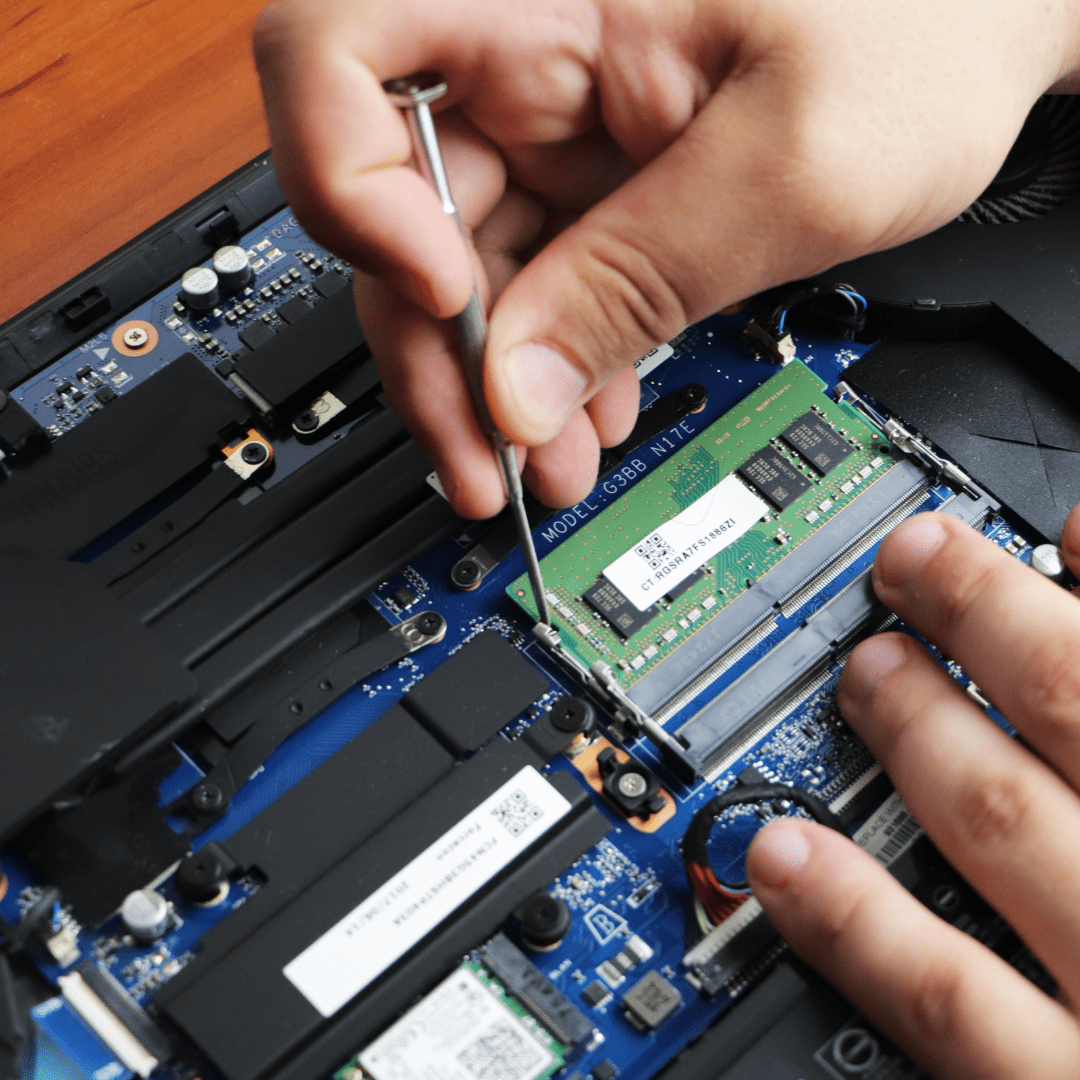 Laptop motherboard or logicboard repair
Motherboard or logicboard issues in laptops can stem from various factors, including physical damage, electrical malfunctions, or manufacturing defects. These issues can lead to a range of problems, from device crashes to loss of data. Our laptop motherboard or logicboard repair and replacement services are meticulously designed to restore your device's proper functionality and ensure seamless operation. We initiate the process by conducting a thorough evaluation of the motherboard or logicboard issue and providing you with a comprehensive assessment of the necessary repairs or replacements.

When you choose our services, you can expect a thorough and comprehensive process to improve your laptop's performance. Our experienced technicians will carefully diagnose the underlying issues that contribute to the slow performance and load speed. They will assess factors such as motherboard health, software configuration, system resources, and potential hardware limitations.

Based on the diagnosis, our technicians will implement effective solutions to address the performance issues. This may involve motherboard repairs or replacements, software optimization, removing unnecessary background processes, upgrading hardware components, or conducting system maintenance tasks like disk defragmentation or cleaning up temporary files.

We prioritise using ESD-safe industry best practices and state-of-the-art tools to ensure that your laptop's motherboard or logicboard functions optimally. Our technicians will work diligently to provide you with a laptop that operates smoothly, performs efficiently, and meets your expectations.
Frequently Asked Questions
How long does it take to repair a laptop motherboard or logicboard?
We typically complete the evaluation of your device on the same business day. After the assessment, we will contact you with a cost estimate for the repair, and we will proceed upon your approval. Repairs for laptop motherboard or logicboard issues are typically finalised within 1 – 2 business days.
How much does it cost to repair a laptop motherboard or logicboard?
After the assessment, we will provide you with a comprehensive cost estimate for repairing the motherboard or logicboard on your laptop. Repair costs for motherboard or logicboard issues in laptops start from $XXX.
What is the process for repairing a laptop motherboard or logicboard?
The process of repairing a laptop motherboard or logicboard begins with a diagnostic assessment to identify the problem. Once the issue is determined, our skilled technicians will carefully address the motherboard or logicboard concerns. Thorough testing is conducted to ensure the optimal functionality of the repaired laptop. At Connect NZ, we utilise high-quality genuine components and adhere to strict industry standards. Additionally, we are an authorised repair agent, ensuring that choosing our services won't void your warranty.
What is the warranty period for laptop motherboard or logicboard repair?
We offer a comprehensive six-month warranty on motherboard or logicboard repairs, covering both the replaced components and the workmanship associated with the original repair. Our warranty is designed to provide you with support in restoring your laptop's functionality.
Do I need to back up my laptop before the motherboard or logicboard is repaired?
For a seamless experience, we strongly recommend backing up your data before submitting your laptop for assessment or repair of motherboard or logicboard issues. If you require assistance with this process, please feel free to contact us, and we can provide guidance or even assist you upon request.
Do you have a laptop that needs a motherboard repair?